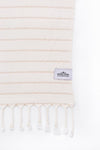 This item is currently sold out.
This line of luxury home essentials is equally suitable for both indoor and outdoor use. Great for the couch, bed, baby or decor use!
BENEFITS:
Hand loomed by Traditional Artisans in Turkey
Eco-Friendly & Fair Trade Certified
Versatile, Functional and Fashionable
Luxuriously soft to touch yet durable.
70% Bamboo, 30% Organic Cotton | 105cm x 170cm